Blockchain can be used for Movies, TV Shows, Videos, and other media to get funding, track and protect media, and create new ways to generate revenues. The market for global media and entertainment is over $2 trillion+ for movies, television, commercials, streaming media, music, and other forms of publishing [Movie.io] and the United States movie and entertainment industry will reach $804 billion by 2021 [Price Waterhouse Coopers]. Blockchain systems can speed up, provide trust, and add transparency by gathering, validating transactions, and sharing with authorized users. By 2017 there were already dozens of operating blockchains in almost all levels of the media and entertainment industry. Figure 1 shows key levels of the media business and key areas that Blockchain adds speed, efficiency, and trust value.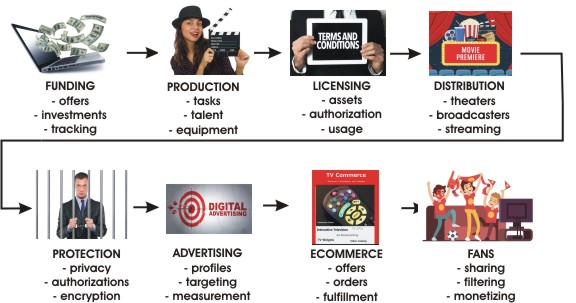 Movie and TV Show Funding
Movie and TV show funding blockchains can be used to securely share production proposals, process investments, track royalties, and to repay investments on agreed terms. Media funding Blockchains can remove the Hollywood accounting practices that may allocate hidden expenses that could not be verified.
Some of the key media project funding challenges include how to privately approach investors, develop investor trust, and being able to accurately process payments when revenues are earned.
Many small independent film productions have used crowdfunding on Indiegogo.com to raise money for their production. When investors contribute money to these productions, they may never see benefits or royalties. Crowdfunding Blockchains add a level of trust to ensure the crowdfunding contributions are used as stated and will deliver the rewards promised. Indiegogo.com has setup Kowala – ico.indiegogo.com Blockchain funding.
Cryptographic tokens can be issued to raise capital that can be used for entertainment projects such as movies, TV shows, video series, and others. Tokens represent an ownership interest in the projects so investors can trust that the project managers and distributors are not able to modify accounting records or insert expenses that were not authorized by the investors. This film and media project transparency allows some or all investors to see expenses, receipts, entitlements, and ownership of each project.
Key ways that Blockchain can assist in movie and show finance include investment gathering, payment gateways, smart contracts, accounting, partnerships, portfolios, copyright management, and communication tools.
Movie and TV Show Funding Blockchains
Movie Coin – movie.io
Filmio – film.io
X Motion Pictures – xmotionpictures.io

Movie and Media Production
Movie and TV show production Blockchains can be used to acquire, assign, organize, protect, control access, and track production talent, crews, equipment, and other activities that are needed to plan, produce, and publish movies and TV shows.
Some of the challenges for media production that can be improved by Blockchain include content and rights management, talent acquisition and payment, rental of production equipment and services, secure production collaboration, and access to advanced video processing and artificial intelligence services.
While there are end to end production Blockchains (from concept to ticket and fan merchandise sales) like ephelants360, there are blockchains that specialize in key parts of the video and media production process such as dbrain.io (video AI), rendertoken.com (graphics rendering), and others.
Movie and Media Production Blockchains:
Verasity – verasity.io
ephelants360 – ephelants360.io

Media Licensing
Media licensing Blockchains identify content assets (video, audio, digital), process and manage usage authorizations, gather and track usage fees. Blockchains for media offer options to media owners and creators who want to earn money selling rights to their digital works. Blockchains can also help distributors and publishers to overcome challenges of complicated distribution arrangements and high middleman fees.
Media licensing challenges that can be solved or helped by Blockchains include content identification (codes and descriptive metadata), license fee and use negotiations, clearance requirements and documentation, and usage provisioning and enforcement.
Media Licensing Blockchains:
Tune Token  – tunetoken.io
Muvi – muvi.com
Photochain – Photochain.io
Singular DTV – singulardtv.com

Movie and Video Distribution
Movie and video distribution Blockchains manage the ordering, transfer, and usage of movies to publishers, streaming services, stored media (DVD and Blu-Ray), distributors, and theaters.
Key challenges that Blockchain can help with for movie and media distribution include validating users and their authorizations, keeping distribution delivery secure (such as to movie theaters and broadcasters), and authorizing viewing sessions.
Movie and Show Distribution Blockchains:
Movies Chain – TVzavr – movieschain.io
Play 2 Live – play2live.io
Slate – Slate.io

Content Protection
Content protection Blockchains add and/or use identification information (watermark and/or fingerprinting), monitoring streaming (broadcast, OTT) or stored media (DVD, flash drives), manage access control, and protect media from unauthorized uses.
Some of the key content protection challenges Blockchains can help with include making content easy to copy for authorized users, blocking unauthorized content viewing, allowing all publishers to have access and cost effectively use sophisticated DRM systems, and to divide long content media (such as TV shows) into multiple rights usage opportunities.
Content Protection Blockchains
DACC – dacc.co
Wemark – wemark.com
Goldilock – goldilock.com
NPER – nper.io

Advertising
Advertising Blockchains protect viewer privacy, gather viewing information, enable precise ad targeting, and provide detailed viewing and engagement information to advertisers.
Company advertising budgets are shifting toward Internet Advertising. According to Zenith Media research, global advertising spending was $579 billion in 2018 with 39% ($226 billion) spent on Internet advertising (display, classified, paid search). Advertising Blockchains can help broadcasters and publishers to capture (or recover) advertising spending for broadcast services by providing precise ad targeting and viewer metrics that are as good or better than Internet advertising systems. Viewer's privacy is protected using the Blockchain while enabling the gathering of viewer activity information (viewing and purchase histories – on and off network). Ads can be targeted and delivery with the detailed viewing metrics provided back to the advertiser.
Advertising Blockchains:
Adbitmedia – adbitmedia.io
Adex – adex.network
Kochava – kochava.com

eCommerce
eCommerce Blockchains insert product and service offers, processing transactions, and pay sales commissions. Tying eCommerce to media systems such as Television commerce (tCommerce) can provide massive new revenue sources. Consider that the off screen revenue from the Star Wars films (licensing, product sales, etc) was approximately 10x the revenue earned from theaters.
Blockchains can be used to provide content owners, distributors, and service provides with new revenue types such as dynamic product placement, affiliate commissions, and direct product sales.
eCommerce and Affiliate Blockchains:
Elementh – elementh.io
Affiliate Coin – affiliatecoin.io
Reftoken – reftoken.io

Fan Social Management
Fan social management Blockchains classify, validate, organize, filter, and monetize content between fans, broadcasters, and content owners.
Social TV is becoming an important part of fan engagement both on screen and off screen. Social media Blockchains can be used to moderate and filter bad content (fake, harmful) and reward good content (rewards tokens).
Fan Social Blockchains:
Fans Unite – fansunite.io
Social Media – steem.io
Rewards Tokens – rewardstokens.io
Patron – patron-ico.io