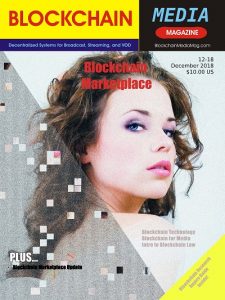 Blockchain can be used for Movies, TV Shows, Videos, and other media to get funding, track and protect media, and create new ways to generate revenues. The market for global media and entertainment is over $2 trillion+ for movies, television, commercials, streaming media, music, and other forms of publishing [Movie.io] and the United States movie and entertainment industry will reach $804 billion by 2021 [Price Waterhouse Coopers]. Blockchain systems can speed up, provide trust, and add transparency by gathering, validating transactions, and sharing with authorized users. By 2017 there were already dozens of operating blockchains in almost all levels of the media and entertainment industry. Figure 1 shows key levels of the media business and key areas that Blockchain adds speed, efficiency, and trust value.
Download December 2018 Edition – bit.ly/bcmm-1812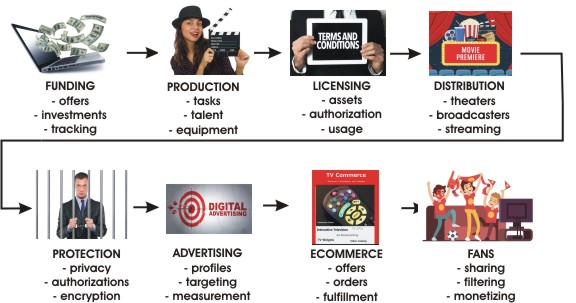 What are Some of the Key Ways Blockchain can be Used in the Media Industry?
Movie/Show Funding – securely sharing offers, processing investments, and tracking payments
Movie/Show Production – identifying, protecting, access, and tracking uses of media
Content Licensing – identifying media assets, use authorizations, and use tracking
Movie/Show Distribution – to publishers (DVD), distributors, and theaters
Movie/Show Streaming – validating users, usage transactions, fraud tracking
Content Protection – device identification, authorization, and content fingerprinting
Advertising – creating private profiles, targeting ads, tracking engagement
Co-Promotion – on and off screen offers, processing transactions, paying commissions
Fan Media – validating contributors, filtering unacceptable content